Health Benefits of Crafts for Seniors
November 16, 2023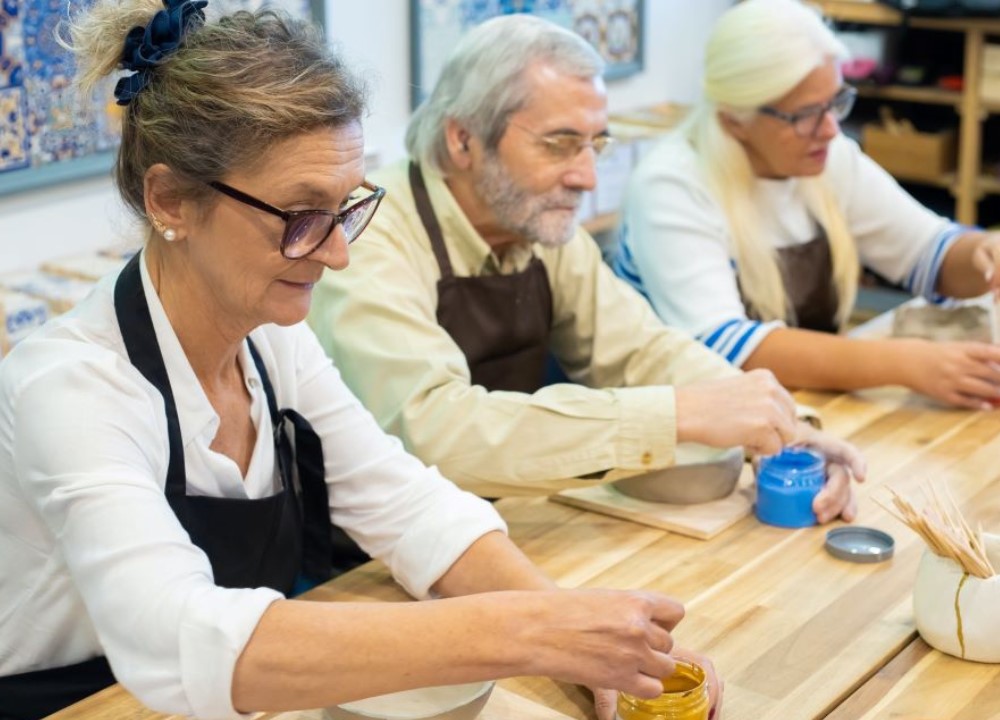 Health Benefits of Crafts for Seniors
Retirement is the chance to do all the things you never had time for before. Travel. Play golf. Read. Spend time on crafts. Crafting is more than just an Etsy side hustle. FellowshipLIFE communities recognize the importance crafts have for seniors, which is why our communities include craft rooms, art studios, and woodworking shops among their amenities. 
Improve your health through art
Music is widely accepted as having a positive effect on health, but did you know other forms of art do, as well? From alleviating loneliness to improving hand-eye coordination, there's lots that crafts can do for the elderly. 
Crafts for good
Doing things for others tends to uplift the spirit. Give your crafting new meaning by donating the finished products to a worthy cause. Donate a hand-crocheted blanket to an organization like Project Linus. Turn your wood-working skills into a donation to Toy-for-Tots. Host your local scout group to help teach them a skill they can use to earn their next badge. 
Improve your mental health
Sometimes in retirement people find themselves at a loss for what to do. That lack of activity can lead to depression and/or anxiety. But studies have shown various crafts, from woodworking to crocheting to basketweaving, can help alleviate these conditions. Not only do they give you something to do with your hands, but crafts with repetitive qualities can even have a meditative effect. 
Stay Limber
Many crafts, like crochet, needlework, and woodworking, might seem like they'd be difficult when dealing with arthritis or other mobility issues. But these crafts, if done right and with the proper tools, can actually help you keep moving. Keep your hands and arms limber with the movements needed for crafting, but make sure you know when to take a rest. 
Top

craft activities for seniors
So, now that you have the time, what craft should you take up? There is no end to crafting ideas out there. The first step in deciding what you want to create is to take stock of your resources. What equipment do you have access to? What supplies? Do you have any health considerations that need to be considered? Do you want something to do as a group or on your own in your living space? Here are some common crafts to get you started: 
Woodworking (toys, furniture, puzzles, bird houses)

 

Sewing (clothes, stuffed toys, doll accessories)

 

Knit/crochet (hats, scarves, gloves, blankets)

 

Quilting (blankets, coats, purses)

 

Embroidery/Cross-stitch

 

Painting

 

Pottery

 

Jewelry making

 

Christmas ornaments

 

Coloring books

 

Craft a community at FellowshipLIFE

Ready to

make the most of your

retirement

and let your creativity shine

?

Enjoy the dedicated craft spaces available at

all

FellowshipLIFE

communities.

Contact us

today to learn more about our

senior living communities

and which one is the right fit for you.