Fellowship Foundation donor stories
Learn more about Fellowship Foundation donors who made lasting gifts to support the Cultural Arts Center and enhance the spirit of fellowship in our communities.
Mitchell and Ann Sieminski
FellowshipLife celebrated the grand opening of the Fellowship Cultural Arts Center and the naming of The Mitchell and Ann Sieminski Theater in September, 2019. The theater naming was unveiled in front of an audience of 200 residents and guests. Ann Sieminski, a resident of Fellowship Village and a patron of the arts, fell in love with the spectacular venue. While Mrs. Sieminski had originally intended to leave a gift to the Metropolitan Opera, she instead chose to give a gracious gift to her home and community. Ann has named the Fellowship Foundation's Life Enrichment Fund as the sole beneficiary of her estate upon her passing.
Among the speakers during the dedication was Mitch Slater of Westfield, who has served as financial advisor to Mrs. Sieminski for 32 years. "Ann wanted everyone to know that Fellowship has become her family, and if she can help with the enrichment programs and this theater, she is more than pleased to be able to do so," he said. "She has come to realize that life is about community and she feels strongly about giving back to the Fellowship community that she has grown to love," he said. "Today Ann is with her new family here at Fellowship Village, and she is so happy to help and is truly touched that you're naming the theater in her honor. As she said to me Monday, most people just give a gift posthumously. But by making her gift now, she's able to see and experience the positive impact of her generosity during her lifetime."
David Badertscher
The cultural arts center is made possible in part by the generosity of our residents, the community and our business partners. There are many opportunities to support the cultural arts center through our Main Stage Society, our Seat Naming, or naming a part of the Cultural Arts Center for special recognition.
David Badertscher considered donating to the Fellowship Foundation, even before he was a resident of Fellowship Village. From his first visit to the community, he knew Fellowship was a special place. Residents he had not previously known greeted him warmly, and team members were genuine and helpful. David has long believed in providing for causes and organizations he believes in, and he generously supports them financially, as well as with his time and energy. Now a resident of Fellowship Village, David is also a generous donor.
FellowshipLife's mission resonates deeply with David and as a donor he wants to make sure his contributions are making a difference by advancing it. He believes that all funds donated should be used to improve the quality of life for residents. One area that continually impresses him is Fellowship's leadership team, whom he frequently collaborates with. Here is how David puts it: "They are responsive to the needs of the residents, and they think strategically about the long term. I am optimistic about Fellowship's future."
When a task force was created to research the possibility of creating a foundation, David was invited to participate. He said, "I only want to get involved if I can make a positive difference." His desire to improve things has been a driving force throughout his entire professional career as a law librarian, as he has generously donated his time to various boards and causes. He continues to work to make life better for residents as a board member of the Fellowship Foundation and by making donations to specific causes at Fellowship Village.
If you ask David why he gives to the Fellowship Foundation, he'll say, "It's my home. I have a vested interest." David assures everyone that "your donation can make a difference." Residents can give to a project of their choice or to one of Fellowship Foundation's four funds to support a cause important to them and ensure residents have a high quality of life now and in the future.
As David would say to his fellow residents, "We have to do everything we can to ensure FellowshipLife is moving forward. We can not sacrifice quality of care."
2022 Gratuity Report
Learn about all of the outstanding ways donors to The Fellowship Foundation have supported Fellowship Village and its residents and team members in 2022. Click below to read our the year-end gratuity report and to see what new things are coming to the community thanks to donors like you.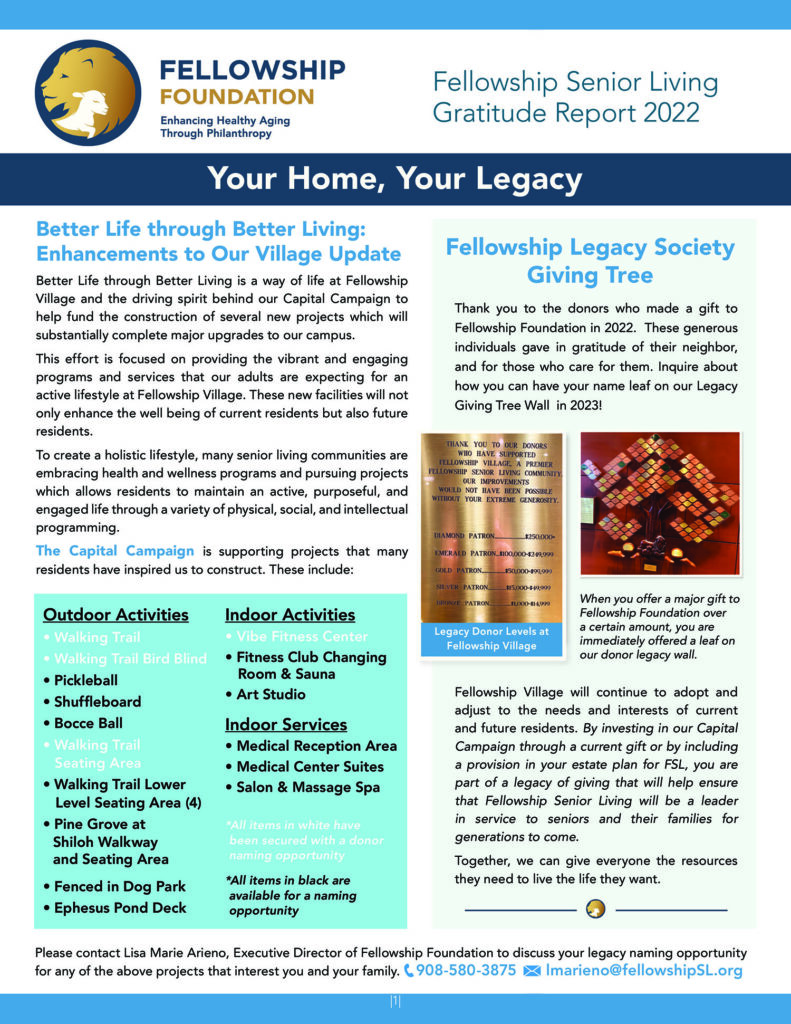 Donate to The Fellowship Foundation
We invite you to support the Fellowship Foundation by making a donation today. Your tax-deductible donation helps us make a difference in the lives of so many that we serve across our New Jersey communities and also helps to support our Sieminski Theater.